Wow, so what a launch we had this past weekend. Beautiful day, low ground winds, couldn't have been any more perfect… except…
So where do I begin. Lets start at the beginning. Everything really went off without a hitch, as far as the launch goes. We launched outside of Medford, MN with the intention of landing just east of the Mississippi River near Winona, MN. No winds this time, balloon filled no problem, a little less lift than we'd liked, but hey, not a deal breaker. The balloon took off and was headed South East as anticipated, so we headed towards Rochester on our way to Winona. Stopped in Kasson (outside my, (Jamey), hometown) to grab a bite to eat and were quickly disrupted as we discovered our payload was already down… just 15 miles NORTH of where we launched from. Didn't make a lot of sense, but considering what the Jet Stream was doing that day, wasn't completely surprising if the balloon burst early or something.
So we trekked back north west to where the balloon was supposed to be. Tracking showed it was just off the road outside of a town called Nerstrand, MN.
We spent well over three hours searching the woods… wasn't there. Was nowhere. We were at a complete loss, as the GPS had never led us astray before. The woods were thick and muddy, we were scratched and sweaty, so we called off our search and headed home. Sometime after dinner we got the itch to head back over, now that it was dark, and see if we could see the flashing beacon anywhere in the woods or surrounding corn fields.
Not 5 minutes after our arrival, as we were just beginning to lose hope after seeing no signs of a flashing beacon, my phone rings a number I wasn't familiar with. I answer and hear the words I'd never thought I'd hear:
"Is this Jamey?"
"Yeah, it is."
"Well this is Mike Fitzmaurice over herein Wisconsin about 5-6 miles northeast of the power plant in Red Wing, I think I found something of yours!"
"YOU'VE GOT TO BE KIDDING ME, MAN DO I HAVE A STORY FOR YOU!"
The rest was us exchanging info for a meetup in Red Wing. But HOLY CRAP! We were WAY OFF! What we later learned by looking at the flight path/elevation map from the handheld GPS was that not only did it not travel the direction we thought it would, it flew up to about 12,000 ft, then dropped quite considerably to about 5,000-6,000 ft (right over where we thought it'd landed) and must've picked up a cell signal and sent location. We had no idea it was going to stay up for just under 5 hours, so we thought for sure it was down, not still ascending on its way to Red Wing.
So we met with Mike over in Red Wing and got our little guy back. We're ever so grateful for his help on this. We really had NO idea where it'd gone and without his call, we'd have lost it forever. Mike, if you're reading this, we can't thank you enough. You saved the future of this fun little project!
So, the bad news of it all was that the cameras died about 2.5 hours into the flight. Obviously they've always covered the 2-2.25 hour flights we've had in the past. So sadly we didn't get anything from WAY up, but we DID get some amazing photos along with some shots of the Minneapolis Skyline and MSP Airport. Some video from the flight is below as well.
So enjoy!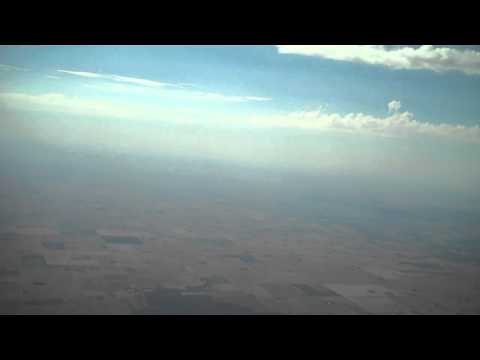 Tags: Low Orbit, Space Exploration, Weather Balloon, Yavin IV