Today was out first un-tethered, "REAL" test run of the Yavin IV Low Orbit Space Exploration project. Everything went off without a hitch, we were up and flying by 12:10pm CST and our fear of losing our payload was squelched when we received contact from our device at approximately 1:42pm CST.
We went up and down in just under two hours, as per our estimates. Our destination couldn't have been any closer to our estimates as well. We landed just southeast of Eau Claire (seen here: http://twitpic.com/2pcgdh) in a small rural residential neighborhood. We quickly found our payload about 15 feet off the east side of a lovely home's driveway nestled about 5 feet into the woods. We were easily within 30 feet of landing on their roof (yikes)!
So from start to finish things went as well as to be expected. We didn't get as high as we'd liked, we had some fog on the plexiglass sealing the holes we'd cut for the cameras, but we have solutions for all of that going into next week's official launch.
So, here's what we got and here's what we learned.
WHAT WE GOT:
– Some pretty good photos, not great (we didn't send up the GOOD cameras this time anyway), despite the fog:

– Some pretty good video from the flip cam: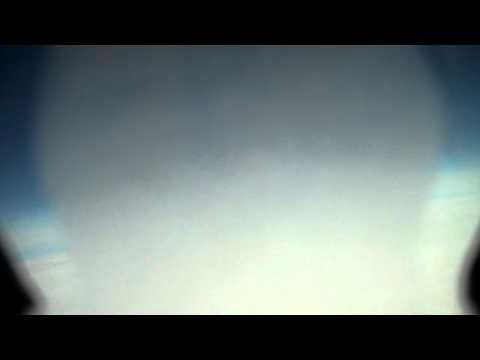 – We got some great media coverage:
Pioneer Press: http://t.co/6jl3OiI
Your Tech Weblog: http://ojezap.me/9ChLz1
WCCO: http://wcco.com/video/?id=83737
TPT Almanac: http://t.co/lzT2cgh
WHAT WE LEARNED:
– We over-inflated our balloon. We need to decrease the amount of helium we fill into the balloon to ensure it flies higher before bursting.
– We need to seal the top of the cooler after loading the gear and prior to launch. The fog we saw on the plexi was due to an issue of the hand warmers inside and the cooler air seeping in. We'll get better photos if we seal the lid tighter.
– We need to try and find a way to reduce the amount of spinning. Our parachute lines were all twisted and a majority of the video is high pace spin… enough to make you nauseous.
– We need to make the view holes larger to avoid any "cropping" if that cameras shift at all due to abrupt wind changes, etc.
– Our GPS solution worked perfectly. Our biggest fear was that relying on cell signal and an app would yield shotty results. However, we were pleasantly surprised that it worked without a hitch.
– Our estimation of travel time and distance were dead one. We will however need to take into consideration that the next payload SHOULD travel higher, which will of course alter both time and distance.
So that's what we got out of this. We couldn't have asked for a better test run… aside from maybe not such an overcast day. Outside of that, perfect!
See you next Friday for the second launch in the Yavin IV experiment.